The customization tool allows you to make color changes in your theme
Arai AXCES 3 Helmet - Line Blue
Brands: Arai
Product Code: Arai-AXCES3-LineBlue
Availability: 3-10 Days
---
---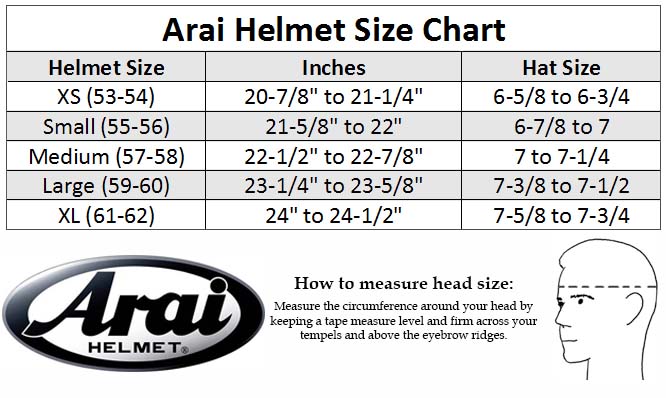 General: Five times inspected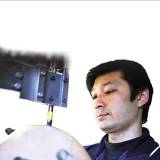 Each Arai helmet goes through five separate quality-control depart­ments: after the shell is made, after painting and graphic completion, after assembly and two in-process inspections.
General: Handmade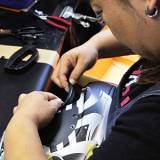 It can take up to five years for our experts to earn the right to create an Arai shell. Each shell can take up to 27 steps and to build one Arai helmet will take about 18 man-hours.
General: All-day comfort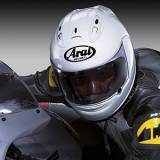 All-day comfort with the Arai interior fit and shape together with the finest liner materials and the extensive ventilation system. And thanks to the perfect balance and weight distribution of the helmet, you hardly notice you are wearing an Arai.
General: Penetration tested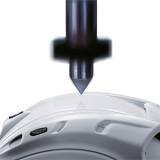 All Arai helmets are penetration tested, although not required by European helmet standards. The Arai penetration test is performed with a 3kg test cone that strikes from a height of 3m on the helmet.
General: Double-D ring device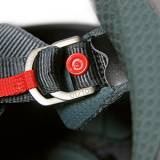 The flat and D-shaped rings fit smooth against the chin. No moving parts, no corrosion problems and just pulling the tab is enough to loosen the fastener.
General: Smooth shape, better protection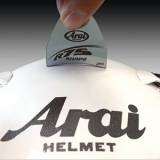 The smooth outer shell of Arai helmets is designed to glide without unnecessary resistance. You don't want to decelerate your helmet more than necessary. That's why all Arai vents and ducts are designed to break off during an impact.
General: Strong outer shell, soft inner shell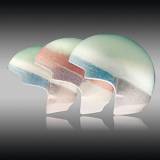 Arai uses a very hard outer shell to spread impact forces and a soft inner shell to absorb remaining energy. The multiple-density EPS inner shell is made using a unique technology of combining three to five densities in various areas as a single component.
General: Organic shape
The organic shape of an Arai outer shell offers a more natural appearance, seals better and conforms more to the head's natural shape for improved comfort, fit and to help minimize wind turbulence.
General: 5-year limited warranty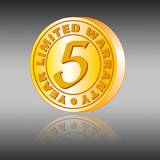 All Arai helmets are warranted against defects in materials and workmanship, and are serviceable only for the properly fitted first user for 5 years from date of first use, but no more than 7 years from date of manufacture.
General: Different outer shells
Unlike many other manufacturers Arai provides one size outer shell for each two-helmet sizes for most models. Together with different shaped outer shells for different models it is almost impossible not to find the fit you are looking for.
General: Arai In-house test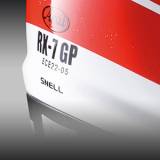 This Arai helmet is designed to meet the stringent Arai In-house criteria, in addition to the mandatory ECE 22-05 standard.
Our mission has always been the protection and comfort of riders. Every Arai helmet is 100 percent handmade. We don't build Arai helmets to meet any safety standards; we build them to exceed the standards. The foundation principles of protection formulated over three generations have never been forgotten in six decades of helmet design and manufacturing.
Arai is a small, family company, driven by the same family, with the same mission, through three generations – three generations of riders. We see riders wearing our helmets, and we hope they know we made their helmets to the best of our ability, to protect and make them feel comfortable no matter how far or how long they ride. We build your helmet by hand. We each have a specific job, yet all of us know every step that goes into building it. That is how we learn there are no minor parts to an Arai helmet, and there are no minor jobs here. We build each Arai helmet as if we're creating it for one of our own, a brother, a father, a husband, a sister. That is what makes every one of us Arai.
At Arai, safety standards like Snell or DOT are our baseline, not our goal. Standards create minimum criteria, but, while many helmet makers design their helmets to meet those minimums, "good enough" has never been good enough around here. Our standards are made for the real world, the world of distracted drivers, unpredictable situations, sharp angles – things that don't move when you hit them. A world you can't duplicate in a controlled, predictable testing laboratory environment.